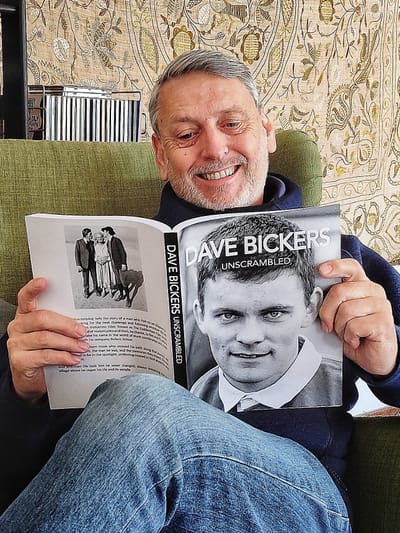 Ian Berry is the author of three published books -
Out Front! British Motocross Champions 1960-1974
and
Motocross on Air
!
The BBC Grandstand Trophy 1963 -1970
(Both Panther Publishing), and
Jeff Smith - Trials Master, Motocross Maestro
(Motorsport Publications LLC), commissioned by the two-time world champion himself. Here he talks about his early interest in motorcycle sport and how he got started as a writer.
From an early age I had a keen interest in motorcycles and cars which I took from my father, a mechanic who had ridden in motorcycle trials in the early 1950s before he met my mother and decided to start a family. My interest in scrambling started at the tender age of five, when I would watch the BBC Grandstand races on television and within a year or two I had attended my first meeting at Cross-in-Hand, Sussex - a family outing.

From that moment on I was smitten and although I never competed in scrambles - trials became my thing - I regularly got my fix attending meetings in the Eastern Centre (and sometimes further afield), most notably at the Halstead MCC's Wakes Colne venue, where I would be spoilt with riders such as Dave Bickers, John Banks, Jim Aim, Freddie Mayes, Dave Nicoll, Norman Messenger and John Pease competing.

Fast forward to the late 1990s when a gift of two Duke Videos from my father one Christmas prompted me to look for books on the sport during the 1960s and 70s. At the time, to my surprise, nothing was available. So, I decided to start noting down a few memories I had of the riders, the tracks, the competitions and, of course the machines. Shortly after this I was delighted to read that journalist Paul Stephens had written a book 'Moto-Cross The Golden Era.' The book is an excellent almanac, tracing the history of the sport from the early post war period through until 1970, and with a comprehensive results section. However, I was a little disappointed that, Jeff Smith's introduction aside, we didn't get to hear from the riders themselves. This gave me a focus and, suitably motivated, I started work on a book that I provisionally named 'From Both Sides of the Double Ropes.'

A few months later, having done my footwork and interviewed the leading riders from the 1960s and 70s, I wrote, prompted by Bryan Goss, to Haynes Publishing with a synopsis of my book. I was confident that they would pick me up and publish, but to my dismay they replied telling me that with one title on the subject already in print
(Stephens' work)
they felt there really was no place for a second. Luckily, however, my father sent me a small paper cutting of an advert placed in one of the classic motorcycle magazines -
WRITERS WANTED
. That was Panther Publishing and Rollo Turner, who would oversee my first two books. Thanks to his encouragement and guidance 'Out Front!' sold well and 'On Air!' followed soon after with similar success.

Following on from this Jeff Smith, who had collaborated with me on the Panther books, commissioned me to write his biography, and bringing us up to date came another commission from Sylvia Bickers to write David's incredible life story. Both of these projects have filled me with immense pride, as these guys really were at the very top of the motocross tree and were heroes to me as a young boy.

Dave Bickers Unscrambled
was a new challenge for me, as for the first time I was not writing exclusively about motocross and had to submerge myself in the world that David created for himself as a stunt coordinator with his company Bickers Action. Sylvia had very definite ideas about what she wanted and we are both very happy with how the book has turned out.

What is next for me? I will have to have a good think about that, but I feel there are more books in me yet. Watch this space!